For Parents: Module 1 - Understanding children's grief and finding teachable moments
Understanding children's grief and finding teachable moments
Chapter 1: How children grieve
I'm listening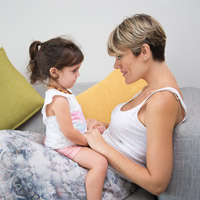 Tell me about it.
I'm here for you.

Whether a child's behaviour is due to age or grief, they benefit when they're assured that:
G

rief is a natural and healthy part of life.
Their thoughts, feelings and experiences are normal and expected when living through difficult times.
You're truly willing to listen.
You

want to know about even the hardest parts of their grief.
Their

grief isn't a burden to you and it helps you to hear about their thoughts and feelings.
Your feelings are normal
When children know they're listened to – and what they're feeling is normal and okay – it's easier for them to explore and express their feelings in ways that are:
Connect them with others.
Learn more about supporting your children in Module 3 Supporting grieving children.