For Educators: Module 1 - Grief in the classroom
Chapter 2: Supporting students coping with Covid-19 grief
Introduction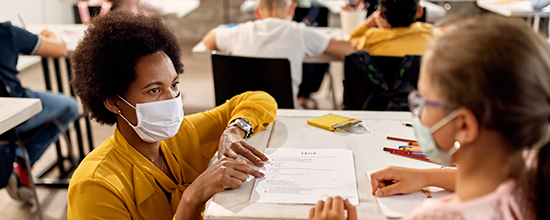 "There are so many unknowns from this pandemic. I think it is important our students know we are all in this together." - Teacher
The COVID-19 pandemic is increasing the volume and complexity of grief affecting students. Whether students are experiencing a COVID-19 related incident or death or trying to understand the shift in our overall sense of safety since the pandemic began, grief is everywhere. Kids are exposed to images and stories in the media, conversations they hear, and they are trying to make sense of the number of deaths while assessing the risks to their own families and grandparents. They have had to adjust to not seeing grandparents or others in their networks due to risk factors.
Beyond the individual experience, the world is in a collective state of grief, except, our grieving process has now changed. We are no longer able to visit or say goodbye, we cannot gather as a family, perform our normal and traditional rituals, or hold funerals that usually help comfort and support us. In addition, many are facing job losses, financial insecurity, and are dealing with the loss of the world as we know it. That sense of loss is impacting parents, families, schools, communities, and is placing a great deal of stress on kids.
Creating open conversations about COVID-19 related impacts, death, and grief in the classroom or other educational settings will help students to feel more comfortable with their emotions and with talking to you about it. By knowing there is a space where they can explore the big thoughts and feelings that come along with these experiences, students will be better able to cope with their grief.