For Parents: Module 2 - Talking about dying and death
Talking about dying and death
Chapter 5: The 4 C's
Who will take care of me?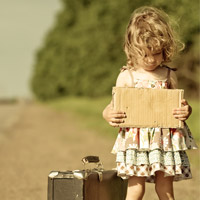 My daughter was visibly relieved when I told her that even if something happened to me too, which is very unlikely, there would always be someone to take care of her. I told her who her guardians are and it was helpful to her to know that.
When a parent or guardian is dying, or has died, children often worry about who will take care of them, even if they have a healthy surviving caregiver. It's natural to worry about the safety of important people in their lives.
They may fear that if one person in their life can die, someone else they depend on may also die. This can lead to a fear of being abandoned and needing to look after themselves. Many adults have similar concerns. They worry about what else they might lose in the aftermath of a death.
Reassure your children that they'll always be looked after until they're old enough to care for themselves.
If you're their parent or guardian, and you're healthy, let them know you'll most likely take care of them until they're grown-up.
Name the other people in their lives who could look after them if you cannot.
When possible, include that information in a legal will.

Help your children identify other adults who care about them and may help support them through this time. These might be family, friends, teachers and community members. Let your children know they're welcome to talk to these people, to ask questions and share their feelings with them.