For Educators: Module 4 - Considerations for administrators
Considerations for administrators
Chapter 4: Planning for when a student is dying
Contacting the bereaved parent(s)
"I can't even imagine what that family is experiencing right now. I felt so intrusive calling them at this time even though I knew it was the right thing to do". – Vice Principal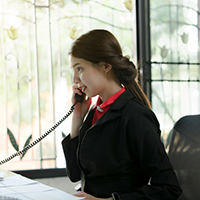 As soon as you learn of a student's death, you should contact their parent(s) by telephone or in person to confirm that the death has occurred and to offer condolences on behalf of the school. Keep your expressions of sympathy brief and genuine.
Click on each item to view a helpful prompt when initiating these difficult conversations.

Prompt 1
"This is Mrs. Lee calling, principal at Hillside High School. I'm calling because I received some devastating news from ______informing me that Jill died".
Prompt 2
"Please know that we are thinking of you so much during this difficult time and we will help you in any way we can".
Prompt 3
"I'd like to provide the teachers with some information to provide the students first thing in the morning. I'm wondering if we can talk for a few minutes to confirm the information that we share with the rest of the school community".
Click on each item on the left for more detail
Tip
Either you or the designated contact person should continue to communicate with the family directly. Some follow-up communication may be better done through email, especially if you're sharing information about resources.
See also:

For tips on having this initial conversation, see Nine tips for speaking with a grieving person in Chapter 1 – Communication strategies of Module 2 -- Supporting Grieving Students.